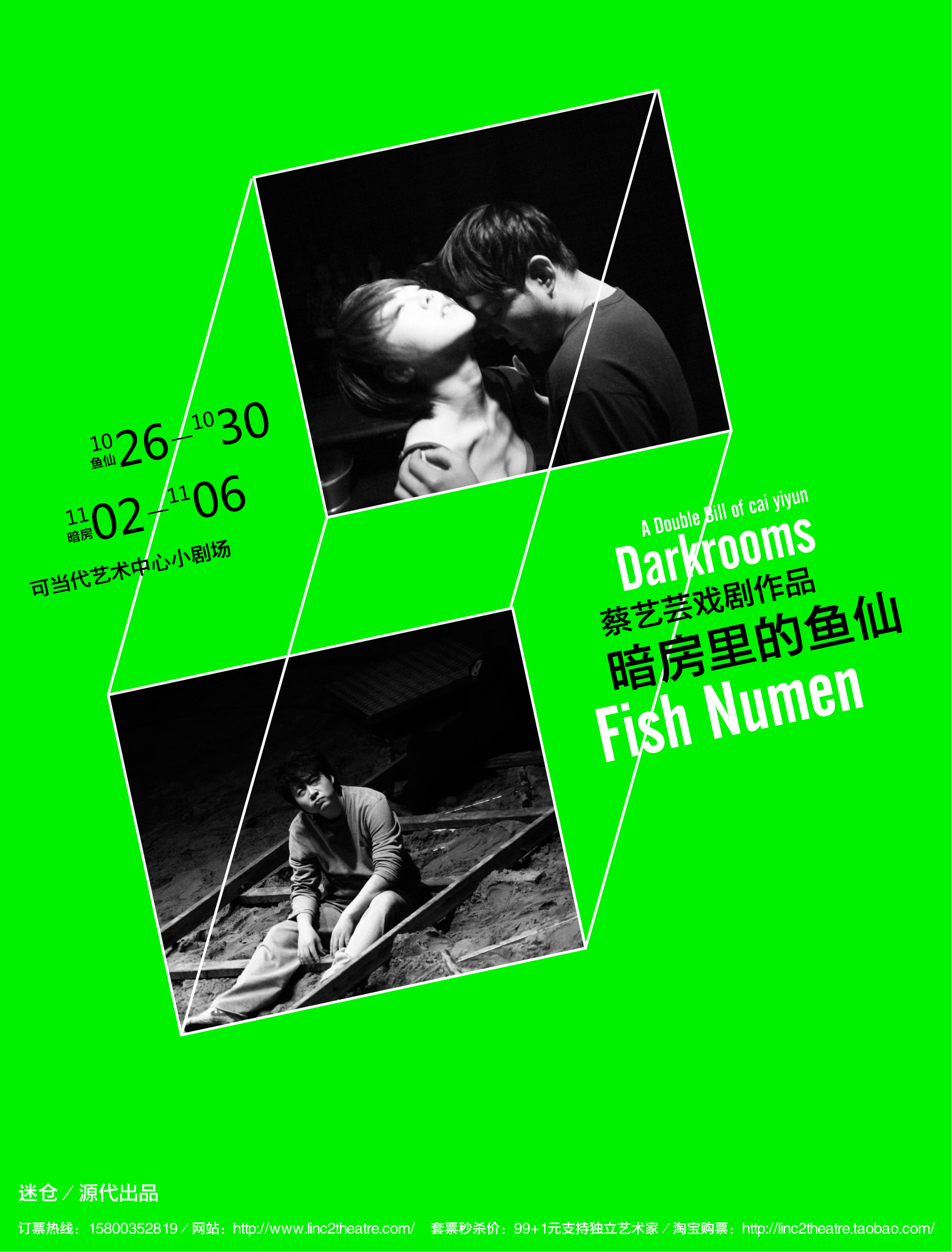 鱼仙
Fish Numen

Poster by 郑邦谦
 《鱼仙》主题曲
 

剧作 / 导演:蔡艺芸
演员:韩易甫、王天艺、张一杰、白杉、杨丛溪、张文梁
舞台设计:高原、季文超
灯光设计:欣舒婷
造型设计:葛颖颖
作曲:徐海贝
平面设计:郑邦谦
出品:迷仓源代、聆舞剧团
 
 
作品简介:
两个人,废弃的站台,锈蚀的铁轨,这是什么地方?
两个人,彼此厌倦又彼此依恋,下一站在哪里?
死亡,恐惧,充满了绝望的希望,没有明天的明天。
他们在等待一个归宿,还是等待着对自己的审判?
《鱼仙》是一首哀婉静谧的抒情诗。
作者试图在破碎凌乱的记忆中寻找失落已久的精神家园,却发现记忆也发生了偏差;
又试图在命运的拨弄中挣扎与反抗,却发现生活依然如此,没有丝毫改变。
 
Two people, abandoned platform, rusted rails, where is this place?
Two people, tired of each other yet still feeling attached, where's the next stop?
Death, fear, a hope filled with despair, a tomorrow without tomorrow.
They are waiting for an end, or their own trial?
Fish Numen is a quietly sad romantic poem.
The writer tries to find a lost spiritual paradise from a convoluted memory, only to discover that memory itself has been deviated
while struggling against a marionette destiny, life trudges on without change.
 

 
 
《鱼仙》主题曲
男孩女孩
boys and girls
词:蔡艺芸
曲:徐海贝
钢琴:申浩
这是一场完美的游戏
This is a perfect game.  
我们在其中沉溺
We indulge in it.  
醒来太阳依旧升起
The sun still raises when we wake up.  
没有什么值得回忆
There is nothing worth remembering.  
一切都在继续,继续,继续
Everything continues.
 
 

photo by Coca戴建勇、轰炸机尹雪峰