我的秘密生活
My Sceret Life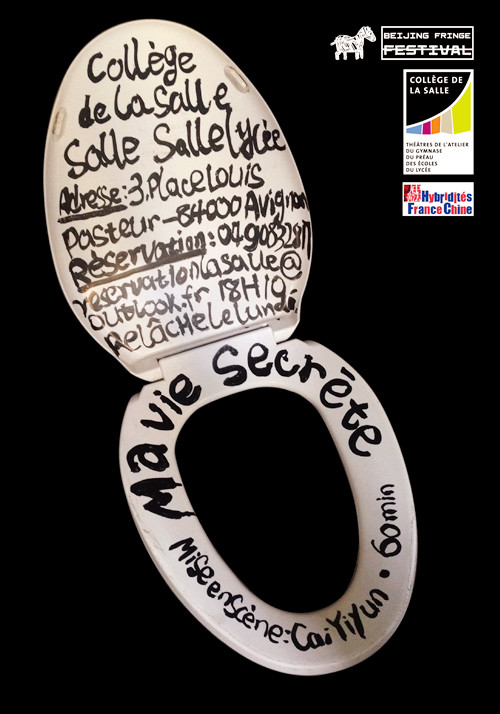 类型:当代剧场作品
时长:60min
空间要求:剧场
主创团队
文本:蔡艺芸/Gritt Uldall-Jessen(丹麦)
导演:蔡艺芸
视觉:唐菱珑
灯光:王洋
音乐:邢江波
演员:康桐歌、李腾飞
作品介绍:
"我们所拥有的私人生活的秘密状态,不过是一些可笑的文件。"——居伊德波
一盘录像带,一个年老的女人的声音,一些未曾被阅读的秘密文件,一本日记,一些照片。这个女人是谁,她在这个陌生的地方已经隐秘的生活了二十多年,没有人知道她的过去,也没有人在乎她的未来,她就像是一个鬼魂一样幽闭了自己,直到有一天,那些代表过去的秘密文件被人从一个旧货市场买回,她的人生才被慢慢翻开,她的秘密生活才慢慢浮出水面。
"2001年9月11日 911恐怖袭击
美国纽约
中国上海
他们之间的距离是14500公里
2014年7月14日 巴西世界杯决赛
德国柏林
中国北京
他们之间的距离是7355公里
2015年11月13日 ISIS巴黎恐怖袭击
法国巴黎
中国山西
他们之间的距离是11739.17公里"
………………………………
导演阐述:
"伴随我们的私人生活是一个秘密,它将我们作为一个隐秘状态分离开来,与此同时,在某种程度上,它又与我们不可分割,作为一个秘密,它始终与我们如影随形。在我们漫长或短暂的人生旅程中,它不仅作为一个秘密陪伴着我们,而且肉体生命本身,以及传统意义上所谓的亲密关系的领域:如滋养、消化、尿尿、排便、睡眠、性爱……都伴随着我们。这些没有面容的伴侣的分量是如此厚重,每一个人都试图与其他人的一起共存共享——然而,异化和秘密不会彻底消失,既便与最亲密的爱侣一起生活中都无法完全解决。"
——阿甘本
《我的秘密生活》是一个女人的私人日记,一首关于生命中那些美丽瞬间的赞美诗,在时间和空间的斑驳交错中,那些生命中的过客逐渐浮现于观众面前,从而探讨了人与环境的关系、人与时间的关系以及人与人的关系,如果说人的一生是一辆飞驰的火车,那么这辆火车的终点即是死亡,而在人奔向死亡的过程中,人自身存在的价值因为他者的存在得以完整。
作品结合装置、多媒体和现场表演。文本部分主要由诗歌和信件组成。一个女人始终在写和说,文字幻化成影像投射在剧场这个封闭空间的墙上,而她在对谁说?这个人为什么始终没有出现?一个男人不断行走于剧场这个封闭的空间内,他想走去哪?哪里才是终点?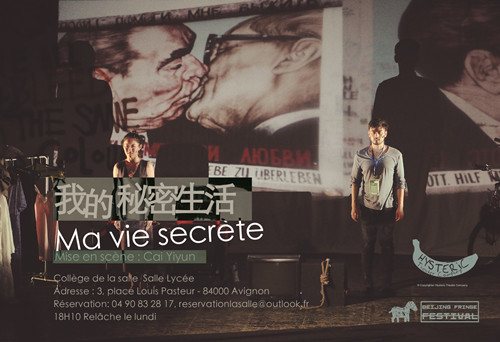 My Secret Life
1. The idea of writing this play
This play was inspired by a quote in L'Uso dei Corpi (The Use of Bodies), Giorgio Agamben's last act of his Homo Sacer series, 'What does it mean that private life accompanies us as a secret or a stowaway? First of all, that it is separated from us as clandestine and is, at the same time, inseparable from us to the extent that, as a stowaway, it furtively shares existence with us……thus, not only is private life to accompany us as a stowaway in our long or short voyage, but corporeal life itself and all that is traditionally inscribed in the sphere of so-called intimacy: nutrition, digestion, urination, defecation, sleep, sexuality……And the weight of this faceless companion is so strong that each seeks to share it with someone else—and nevertheless, alienation and secrecy never completely disappear and remain irresolvable even in the most loving life together.'
My Secret Life as a play in which is about a woman's personal diary is also a hymn to praise those significantly extraordinary instants in life and to remind everyone through a jumbled weaving of time and space that those people that he/she used to came across and passed by later to provide with discussion of an individual's relationships with the environment, time, and other men. It's to say that life is a train in motion of which the end is the final stop as life's is death. An individual's value on its own presence gets completed owing to the presence of others during the voyage of a lifetime till death.
2. Introduction of the play
"……that clandestinity of private life regarding which we possess nothing but pitiful documents"——Guy Debord.
A video cassette, a voice of an elder woman, a stack of unread classified files, a diary and some pictures. Who that woman might be? The woman who has been a hermit in this strange place for over two decades with no one aware of her past nor care for her future; who was like an apparition that has shut herself in till the day that someone gets those files of the past from a flea market to reveal all her life stories and secrets.
"The '9·11' New York Terrorist Attack', Sep.11, 2001,
New York, US,
Shanghai, China,
There was a distance of 14,500km between him and her;
The Final of the FIFA World Cup Brazil, Jul.14, 2014,
Berlin, Germany,
Beijing, China
7,355km between him and her;
The ISIS Terrorists Attack in Paris, Nov.13, 2015
Paris, France
Shangxi Province, China
11,739.17km."
……………………………………………………..
3. About the team
Script:Cai YiYun/Gritt Uldall-Jessen
Director:Cai YiYun
Scenic Design : Tang LingLong
Musical Design:Xing JiangBo
Light Design: Wang Yang
Performance: Kang TongGe、Li TengFei
4. What's special
The play My Secret Life combines the live performance with a variety of equipment and means of multi-media. The part of script is mostly composed by poetry and letters. With words reflected on the walls of the theatre which as a closed space, a woman keeps writing and talking throughout the play which leaves the audience wondering with whom might she be communicating, and no such a specific answer is provided in the play. A man keeps walking through the space of the theatre with no idea of where to be headed nor the end. Unknown, as life itself, becomes all.
剧本: